Questions for the GUTGAA Meet and Greet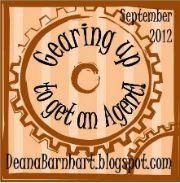 Sign Up Now!
The Gearing Up To Get Your Agent blogfest is on! This week, everyone is getting to know each other, so join in on the fun!
I just finished a roll-top desk and it's down in my office. My writing space is almost perfect!
-Quick. Go to your writing space, sit down and look to your left. What is the first thing you see?
My little framed sign that says, 'Butt In Chair'
Morning to late afternoon. And eleven p.m. to two a.m. Basically when everyone is asleep or not home.
-Drink of choice while writing?
-When writing , do you listen to music or do you need complete silence?
Instrumental Soundtracks (scores). Especially ones specific to the genre I'm writing.
-What was your inspiration for your latest manuscript and where did you find it?
Donating plasma twice a week. Those people are real vampires.
-What's your most valuable writing tip?
I like quotes, especially when someone says it better than I could. Stephen Cannell said, "I never waited for my Irish Cream coffee to be the right temperature, with a storm happening outside and my fireplace crackling ... I wrote every day, at home, in the office, whether I felt like it or not, I just did it." So my tip: Write. Every. Day.