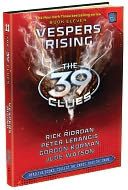 Buy it @ B&N
If you got hooked by the fast-reading Middle Grade series, The 39 Clues, then you were excited like I was
to see the release of the first book of the second series, Vespers Rising.
Rick Riordan, Peter Lerangis, Gordon Korman, and Jude Watson joined forces on this one to create essentially four short stories that build the new threat to the Cahill family, the Vespers. Starting with Gideon Cahill in 1507, each story explains the origins and purpose of the Vespers leading to their current battle with Dan and Amy Cahill.
While the stories are exciting and well written, I wasn't really interested in all the past history. I wanted more Amy and Dan adventures! The last story
is
about Amy & Dan, but because 3/4 of this book deals with other family members, it felt like the expanded Star Wars universe. Sure it's fun, but you really just want to see Han, Luke, and Leia in action.
Fortunately enough, the story about young Grace Cahill is close enough to the original 39 Clues stories to make it satisfying.
Vespers Rising is a necessary book and a good read to set up the history for the Vespers series, but it won't be my favorite without Amy and Dan's antics.