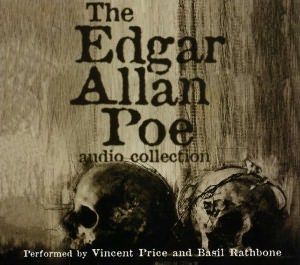 Looking for a great audiobook for Halloween? Look no further than this priceless collection of tales from the original master of horror, Edgar Allan Poe.
"

TRUE! --nervous --very, very dreadfully nervous I had been and am; but why will you say that I am mad?"
~ The Tell-Tale Heart
The Good
The Edgar Allan Poe Audio Collection is read by two legendary voices: Vincent Price and Basil Rathbone. Their rich baritones lull you into complacency before jumping off the cliff of insanity. Poe's works are notoriously chilling, but it's always better to hear master narrators at work.
Basil Rathbone
Don't believe me? Wait until you hear Basil Rathbone reading the Tell-Tale Heart and The Bells. Or Maybe you'd preferred a stab at Vincent Price reading The Gold Bug and Morella.
Either way, both

masters bring new delights to these chilling tales.
"The angels, not half so happy in heaven,
Went envying her and me-
Yes!- that was the reason (as all men know,
In this kingdom by the sea)
That the wind came out of the cloud by night,
Chilling and killing my Annabel Lee."
~ Annabel Lee
The Bad
If you're not a huge fan of poetry, this one might turn you off with it's wild literary abandon.
Additionally,
Vincent Price only reads five of the twenty stories in the collection. The time is balanced though, because Price reads Ligeia and The Gold Bug, both of which are almost hour long tales. But Basil Rathbone is no slouch and is one of the best narrators you'll hear, especially with these stories.
[Insert evil laugh here]
"Shall I then say that I longed with an earnest and consuming desire for the moment of Morella's decease? I did; but the fragile spirit clung to its tenement of clay for many days, for many weeks and irksome months, until my tortured nerves obtained the mastery over my mind, and I grew furious through delay, and, with the heart of a fiend, cursed the days and the hours and the bitter moments, which seemed to lengthen and lengthen as her gentle life declined, like shadows in the dying of the day."
~ Morella
Vincent Pr

ice
The Spin
Poe always considered himself a poet, not a writer. If you like horror or poetry with a hint of darkness, this is a necessary collection. And even if you don't like audiobooks, I still recommend this one. Price and Rathbone are just that good.
They'll get you ready for a haunting good time.
"Over the Mountains
Of the Moon,
Down the Valley of the Shadow,
Ride, boldly ride,"
The shade replied-
"If you seek for Eldorado!"
~ Eldorado